OEM Quality
After-Market OEM Standard Parts
Early Delivery
Ex-stock or Early Parts Delivery
Warranty
Standard Warranty Applicable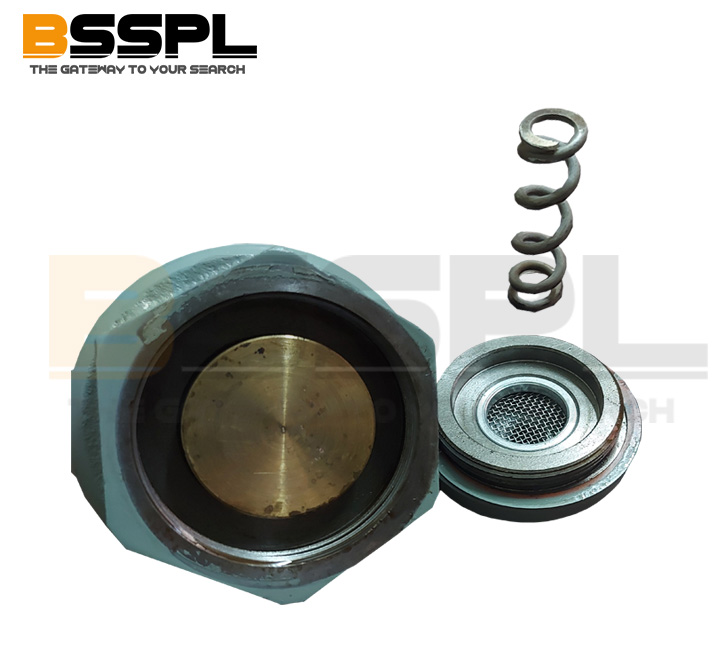 WABCO Air Compressor
We Bitsource Solutions Private Limited deals in after-market high-quality OEM Standard WABCO W-type air cooled reciprocating compressor-exhauster 6CD4UC, 6CDx4UC, 6CD3UC, 6CDx3UC, 3CDB etc., which are used in Diesel Locomotives of Indian Railway.
The spare parts are OEM equivalent and are manufactured with OEM standards keeping competitive pricing, some of the most commonly needed parts include crankshaft, intercooler big end bearing, small end bearing, air filters, LP piston, HP Piston, End Covers, seals, Inlet valve, Discharge Valve gaskets, air brake valves, compressor parts, cylinder head, crankcase, HP Cylinder, LP Cylinder, Connecting Rod relay valves, breather valves, unloader valve, E-1 safety valve, oil pressure indicator, crankcase vacuum maintaining valves, lube oil pumps and air brake valves and oil filters.
BSSPL also supplies a wide range of WABCO Parts and Components, including hoses, fittings, Unloader Pipes, Air Compressor and more.
REQUEST A QUOTE
Download WABCO Part List
We respect your privacy and do not tolerate spam and will never sell, rent, lease or give away your information to any third party.
| Part Name | WABCO Air Compressor |
| --- | --- |
| DRIVE SPROCKET | 552676 |
| DRIVE SPROCKET ASSEMBLY | 552685 |
| OIL SEAL ASSEMBLY | 566271 |
| O' RING | 567079 |
| MATING RING | 567078 |
| HOUSING OIL SEAL | 566270 |
| DISCHARGE VALVE ASSEMBLY | 566430 |
| DISCHARGE VALVE SEAT WITH STUD | 566435 |
| DISCHARGE VALVE SPRING RETAINER | 566433 |
| INNER INLET AND DISCHARGE VALVE SPRING | 514639 |
| OUTER INLET AND DISCHARGE VALVE SPRING | 514640 |
| INNER INLET AND DISCHARGE VALVE PLATE | 514637 |
| OUTER INLET AND DISCHARGE VALVE PLATE | 514638 |
| H.P & L.P EXHAUST INLET AND DISCHARGE VALVE GASKET | 514644 |
| H.P & L.P INLET VALVE COMPLETE | 514645 |
| H.P & L.P INLET VALVE WITH UNLOADER RETURN SPRING COMPLETE | 518236 |
| H.P & L.P. INLET VALVE SEAT | 544646 |
| INLET VALVE SPRING RETAINER WITH STUD | 566638 |
| INLET VALVE UNLOADER RETURN SPRING CAGE WASHER | 566639 |
| INLET VALVE UNLOADER RETURN SPRING | 518476 |
| UNLOADER BODY ASSLY COMPLETE | 564219 |
| UNLOADER BODY WITH BUSH | 514657 |
| UNLOADER PLUNGER WITH SPRING COMPLETE | 563204 |
| UNLOADER PLUNGER | 563199 |
| CAP, INLET VALVE | 514643 |
| PLUG DISCHARGE VALVE | 514577 |
| PLUG INLET VALVE | 514642 |
| EXHAUST CYLINDER HEAD | 569050 |
| LP CYLINDER BARE WITH STUD & NUTS | 520366 |
| AUTOMATIC BRAKE VALVE RUBBER KIT | 559547 |
| AUTOMATIC BRAKE VALVE GM KIT | 559548 |
| INDEPENDENT BRAKE VALVE RUBBER KIT | 559549 |
| INDEPENDENT BRAKE VALVE GM KIT | 559550 |
| F1 SELECTOR VALVE RUBBER KIT | 559555 |
| F1 SELECTOR VALVE GM KIT | 559556 |
| SAFETY VALVE | 558296 |
| E-1 SAFETY VALVE | 10526-0060 |
| INLET VALVE ASSLY WITH RETURN SPRING | 518326 |
| CYLINDER HP | 514629 |
| VALVE INLET ASSLY | 514645 |
| CYLINDER LP | 514626 |
| KIT COMPLETE FOR OVERHAUL | 2x4976 |
| KIT COMPLETE | 559548 |
| AUTO DRAIN VALVE | 551116 |
| KIT MAINTENANCE (RUBBER PARTS) | 559555 |
| BRAKE VALVE (P2A) | 578861 |
| INLET VALVE (UNLOADER) | 680001 |
| BEARING | 549826 |
| MATING RING | 566272 |
| OIL SEAL | 566271 |
| BEARING, INSERT CP WABCO PART NO. | 540589 |
| OIL PISTON RING | 520133 |
| RING COMPRESSION STD.LP | 520123 |
| GASKET CYLINDER BLOCK TO HEAD | 514651 |
| GASKET CYLINDER HEAD. | 516296 |
| GASKET COPPER | 514644 |
| GASKET FLANGE | 514650 |
| BUSH PIN | 580087 |
| BUSH | 592694 |
| GASKET COPPER | 592600 |
| WASHER | 558371 |
| CRANK SHAFT ASSEMBLY | 556608 |
| EXHAUST PISTON WITH WRIST PIN | 590621 |
| PISTON WITH HP WRIST PIN | 543716 |
| CYLINDER HP | 553399 |
| WRIST PIN LP | 543714 |
| VALVE GASKET | 514644 |
| VALVE SUPPORT / PLUNGER | 563204 |
| VALVE SUPPORT/ PLUG INLET | 514642 |
| INLET VALVE WITH RETURN SPRING | 68001-59512 |
| UNLOADER VALVE WITH PACKING RING | 514667 |
| VACCUM MAINTAINING VALVE ASSEMBLY | 567376 |
| PISTON RING FOR UNLOADER PISTON (OLD MODEL) | 518472 |
| OIL LEVEL GAUGE | 572863 |
| OIL PUMP ASSEMBLY |  559795 |
| PISTON, EX STD | 590621 |
| E-1 SAFETY VALVE ASSEMBLY FOR INTERCOOLER | 100526-0060 |
| FILTER ASSEMBLY | 541498 |
| NUT CRANKSHAFT LOCK | 519763 |
| WRIST PIN | 543714 |
| PIN 1/2 INCH | 5848 |
| STUD | 566637 |
| CYLINDER HEAD H P | 516368 |
| H P & L P INLET VALVE WITH UNLOADER RETURN SPRING COMPLETE | 518236 |
| L P CYLINDER HEAD ASSLY WITH UNLOADER BODY | 520364 |
| EXHAUST CYLINDER HEAD ASSEMBLY | 535595 |
| INLET VALVE ASSEMBLY | 592512 |
| CON ROD BUSH | KPC09500303 |
| HIGH PRESSURE COMP. PISTON RING | 520125 |
| HIGH PRESSURE OIL PISTON RING | 521195 |
| RING COMPRESSION STD.HP | 520128 |
| HIGH PRESSURE OIL PISTON RING | 520130 |
| L.P. COMPRESSION RING O/s 0.010 | 523401 |
| L.P. COMPRESSION RING O/s 0.020 | 523402 |
| L.P. COMPRESSION RING O/s 0.030 | 523403 |
| COMPRESSION RING | 530644 |
| L.P. OIL RING O/s 0.010 | 523404 |
| L.P. OIL RING O/s 0.020 | 523405 |
| L.P. OIL RING O/s 0.030 | 523406 |
| OIL RING | 530648 |
| H.P. COMPRESSION RING O/s 0.010 | 523429 |
| H.P. COMPRESSION RING O/s 0.020 | 523430 |
| COMPRESSION RING | 523431 |
| OIL RING | 523432 |
| H.P. OIL RING O/s 0.020 | 523427 |
| OIL RING | 523433 |
| H.P. COMPRESSION RING O/s 0.010 | 523392 |
| H.P. COMPRESSION RING O/s 0.020 | 523393 |
| H P COMPRESSION RING O/s 0.030 | 523394 |
| H.P. COMPRESSION RING O/s 0.040 | 530643 |
| H.P. OIL RING O/s 0.010 | 523395 |
| H.P. OIL RING O/s 0.020 | 523396 |
| H.P. OIL RING O/s 0.030 | 523397 |
| H.P. OIL RING O/s 0.040 | 530646 |
| PISTON WITH HP WRIST PIN | 563239 |
| PISTON WITH HP WRIST PIN | 563232 |
| PISTON WITH HP WRIST PIN | 563233 |
| HP/EXH.PISTON | 563234 |
| H.P. PISTON WITH WRIST PIN O/s 0.040 | 563325 |
| PISTON 0.010" | 563240 |
| PISTON 0.020" | 563241 |
| H.P. PISTON WITH WRIST PIN O/s 0.030 | 563242 |
| H.P. PISTON WITH WRIST PIN O/s 0.040 | 563243 |
| LP EXHAUSTER PISTON WITH WRIST PIN STD. | 550853 |
| BEARING SET 0.010" U/S | 541078 |
| OIL PUMP ASSEMBLY | 559966 |
| BODY | 559794 |
| GEAR, OIL CUP (INSIDE LOP) | 552674 |
| GEAR, IDLER (INSIDE LOP) | 552675 |
| WOODRUFF KEY(FOR DRIVEN SPROCKET) | 549827 |
| SCREW HEX.SOCKET HEAD | 552688 |
| CHAIN OIL PUMP DRIVE | 552645 |
| OIL GAUGE TUBE | 552690 |
| TORQUE BOLT FOR LUP OIL PUMP | 552643 |
| OIL STRAINER ASSEMBLY | 559967 |
| OIL STRAINER BODY | 559793 |
| OIL STRAINER SCREEN | 565619 |
| PROLONG RETAINER RING | 559800 |
| OIL PUMP RELIF VALVE | 559803 |
| OIL PRESSURE INDICATOR ASSLY | 563408 |
| VALVE WITH PACKING RING | 514667 |
| CAP VALVE WITH SCREEN RETAINER | 519809 |
| OIL FILLER ASSLY | 553400 |
| EVACUATION TUBE ASSEMBLY FOR ABOVE ITEM | 567479 / 547478 |
| LOCK NUT | 566432 |
| BOLT WITH NUT FOR CON ROD ASSEMBLY | 514617 |
| | 68770 |
| CYLINDER, LP & EXHAUSTER | 552650 |
| CYLINDER, HP | 552651 |
| HP CYLINDER HEAD ASSEMBLY WITHUN-LOADERS | 558431 |
| BODY, HP CYLINDER HEAD | 514654 |
| EXHAUSTER CYLINDER HEAD ASSEMBLY | 569049 |
| PIN WRIST, HP PISTON | 51462 |
| UNLOADER CONNECTING PIPING FOR LP | 519412 |
| TUBE RH UNLOADER RISER | 552745 |
| TUBE LH UNLOADER RISER | 552743 |
| UNION ELBOW | 518709 |
| BRANCH SWIVEL | 518710 |
| STUD UNION 1/4" | 519174 |
| MANIFOLD, UNLOADER TUBE | 523879 |
| TUBE HP UNLOADER RISER | 552741 / 558645 |
| TUBE UNIVERSAL CONNECTION | 560269 |
| KEY FOR FAN | 525241 |
| ELBOW BRANCH (ELL BRANCH 1/4") | 534230 |
| ELBOW COMPRESSION | 87205 |
| STUD COMPRESSION | 87206 |
| COMPRESSION COULING STUD ASSEMBLY | 556536 |
| ADAPTER STUD | 552691 |
| BEARING SET 0.020" U/S | 540590 |
| CONNECTING ROD WITH DU BUSHING | 580081 |
| PISTON LP WITH PIN & CIRCLIPS | 550583 |
| RING OIL HP | 520195 |
| BUSH WRIST PIN | 516742 |
| DISCHARGE VALVE ASEMBLY | 578773 |
| VALVE INLET | 680002 |
| CRANKSHAFT ASSLY | 553429 |
| GASKET CYLINDER EXHAUSTER | 514627 |
| INTERCOOLER ASSLY | 553404 |
| CON ROD - FORGED | 580085 |
| CONNECTING ROD ASSLY | 580085 |
| LP PISTON WITH WRIST PIN 0.010"O/S | 554107 |
| CRANKSHAFT ASSLY | 574536 |
| SCREW HEX HEAD | 5951 |
| NUT HEX | 6381 |
| SCREW HEX HEAD | 7978 |
| SAFETY VALVE NA | 10526 |
| STUD INLET | 15073 |
| LOCK NUT | 73757 |
| FLANGE HP DISCHARGE | 186542 |
| WRIST PIN | 514623 |
| RING SNAP | 514624 |
| CYLINDER LP (BLOCK) | 514626 |
| DISCHARGE VALVE ASSEMBLY | 514634 |
| GASKET HP DISCHARGE FLANGE | 516274 |
| UNLOADER VALVE RING | 518472 |
| UNLOADER VALVE | 518557 |
| HP CYLINDER HEAD WITH UNLOADER ASSLY. | 518837 |
| COMPRESSOR RING | 520403 |
| GASKET UNION | 522758 |
| RING OIL 0.010" | 523438 |
| KEY | 525238 |
| CUP POINT SET SCREW | 528816 |
| SET SCREW SOCKET | 530493 |
| O RING | 534662 |
| RING GASKET | 534683 |
| ADAPTOR FILTER | 540211 |
| PIN WRIST HP | 543713 |
| BALL BEARING | 549826 |
| COVER SIDE PLAIN | 552657 |
| GASKET SIDE COVER | 552658 |
| CASING | 552659 |
| GASKET BEARING HOUSING | 552660 |
| SCREW HEX HEAD | 552678 |
| WIRE LOCK | 552679 |
| KEY DRIVE SPROCKET | 552687 |
| NUT | 552692 |
| EXHAUSTER MANIFOLD (INTAKE/DISCHARGE) | 552695 |
| ADAPTER FILTER | 552696 |
| GASKET | 553011 |
| GASKET TOP HEAD INTERCOOLER | 553392 |
| CON.ROD & CAP ASSLY | 553402 |
| CON.ROD & CAP ASSLY WITHBIG END | 553403 |
| UNLOADER CONNECTING TUBE | 553468 |
| LP PISTON WITH WRIST PIN 0.020"O/S | 554108 |
| LP PISTON WITH WRIST PIN 0.030"O/S | 554109 |
| LP PISTON WITH WRIST PIN 0.040"O/S | 554110 |
| OIL SEAL HOUSING | 556270 |
| INTERCOOLER ASSEMBLY | 556611 |
| CRANK CASE | 556684 |
| OIL SEAL HOUSING | 557075 |
| EXHAUST MANIFOLD INTAKE WITH TAP HOLE | 557380 |
| MANIFOLD VACCUME MAINTAINING ASSLY | 557381 |
| MANIFOLD EXHAUST DISCHARGE | 557384 |
| MANIFOLD CYLINDER HEAD TO I/COOLER | 557385 |
| MANIFOLD INTAKE EXHAUST | 559580 |
| STAY PIN | 559801 |
| SET SCREW | 559802 |
| OIL PUMP SPROCKET LEFT | 559859 |
| OIL PUMP ASSLY SPROCKET LEFT | 559968 |
| DRIVE SPROCKET ASSLY 0.010" U/S | 560501 |
| DRIVE SPROCKET ASSLY 0.020" U/S | 560502 |
| VALVE SEAT | 563202 |
| PISTON WITH HP WRIST PIN | 563231 |
| OIL PRESSURE INDICATOR ASSLY | 563408 |
| SPRING | 563410 |
| GAASKET OIL PRESSURE | 563411 |
| MATING RING | 566727 |
| O RING | 567090 |
| EVACUATION TUBE | 567478 |
| SPRING RETAINER | 572161 |
| SPRING | 572162 |
| GUIDER UNLOADER SPRING | 572163 |
| SPRING | 572164 |
| GASKET OIL FILTER COVER | 572403 |
| COVER SIDE WITH OIL LEVEL GLASS | 572862 |
| CYLINDER HP BLOCK | 579041 |
| LP CYLINDER HEAD WITH STUD & NUTS | 579049 |
| DU BUSHING | 580088 |
| OIL PUMP ASSLY SPROCKET | 585170 |
| HOUSING KRP | 566273 |
| LINER (LP) 197 | 11382934 |
| LINER (HP) 140 | 11382855 |
| FACE SEAL OIL | 216460 |
| SAFETY VALVE ASSEMBLY E1 TYPE | 11381607 |
| VALVE ASSEMBLY INLET | A 070072 |
| VALVE ASSEMBLY, DISCHARGE | A 070055 |
| OIL PRESSURE INDICATOR FOR EXPRESSOR | A 070035 |
| VALVE ASSEMBLY, DISCHARGE | A 070054 |
| PLUG INLET VALVE FOR EXPRESSOR | 319290 |
| PLUG DISCHARGE VALVE FOR EXPRESSOR | 319300 |
| COPPER WASHER, NLEY & DISCHARGE VALVE | 439260 |
| COPPER WASHER, CYL. HEAD TO CAP NUT | 439270 |
| SAFETY VALVE ASSEMBLY FOR EXPRESSOR (E1 TYPE) | A 070026 |
| PISTON | 563639 |
| SAFETY VALVE, TYPE J-1 (SET 150 LB) (See PB 25330) | 558926 |
| P2A BRAKE APPLICATION VALVE | 562533 |
| PISTON SPOOL VALVE | 564123 |
| GASKET BEARING HOUSING | 552660 |
| GASKET | 522758 |
| GASKET | 9501003 |
| MATING RING | 556272 |
| SAFETY VALVE NA | 10526-0060 |
| COPPER GASKET - INLET DISCHARGE VALVE | 095.00.523.00 |
| INLET VALVE ASSLY | 096-50-432.50 |
| GASKET LP HEAD | 514651 |
| BEARING SET 0.030"U/S | 540591 |
| BEARING SET 0.040" U/S | 540592 |
| AIR STRAINER | 541498 |
| DRIVE SPROCKET | 582685 |
| UNLOADER PLUNGER | 563204 |
| HP PISTON | 563235 |
| VALVE CAM | 558473 |
| EMERGENCY VALVE | 558477 |
| INLET & EXHAUST VALVE | 562349 |
| DRAIN COCK | 99080 |
| BODY UNLOADER | 564249 |
| LUBE OIL PUMP ASSLY 0.20\" UNDER SIZE GEAR ARRANGEMENT (MODIFIED) | 562148 |
| A9 Automatic Brake Valve | 564140 |
| SA9 Independent Brake Valve | 564141 |
| C2 Relay Air Valve | 538975 |
| J-1 Safety Valve | 558296 |
| F-1 Selector Valve | 557995 |
| H5 Relay Air Valve | 528561 |
| HB5 Relay Air Valve | 546814 |
| VA1B Control Valve | 564523 |
| A- Differential Pilot Air Valve | 564940 |
| D-1 Emergency Brake Valve | 564786 |
| HS4 Control Air Valve | 561128 |
| NS16 Compressor Governor | 85270 |
| 2″ VA1 Release Valve with Bypass | 545829 |
| VA-1A Control Valve | 560816 |
| MU2B Valve | 564144 |
| RUBBER PART KIT FOR A-9 AUTOMATIC BRAKE VALVE CONSISTING OF 08 ITEMS | 562251 |
| DIAPHRAGM | 526346 |
| O-RING | 531868 |
| O-RING | 526388 |
| O-RING | 524614 |
| O-RING | 523734 |
| O-RING | 564056 |
| SEAL VALVE | 557396 |
| GASKET PIPE BRACKET | 560009 |
| RUBBER VALVE KIT FOR 28VB CONTROL VALVE CONSISTING OF 08 ITEMS | - |
| DIAPHRAGM (LARGE) | 564081 |
| DIAPHRAGM (SMALL) | 563785 |
| O-RING | 524612 |
| O-RING | 523732 |
| GASKET | 527560 |
| CHECK VALVE | 529009 |
| CHECK VALVE | 563784 |
| GASKET | 563815 |
| HP CYLINDER HEAD | 516268 |
| RUBBER PART KIT FOR SA-9 INDEPENDENT BRAKE VALVE CONSISTING OF 05 ITEMS | - |
| DIAPHRAGM | 526346 |
| O-RING | 531868 |
| O-RING | 523734 |
| O-RING | 564056 |
| GASKET PIPE BRACKET | 560009 |
| | - |
| RUBBER PART KIT C2W RELAY AIR VALVE CONSISTING OF 09 ITEMS | - |
| DIAPHRAGM | 536300 |
| O-RING | 524614 |
| O-RING | 532282 |
| O-RING | 532257 |
| O-RING | 536239 |
| SEAL VALVE | 557396 |
| PORT GASKET | 527717 |
| GASKET PIPE BRACKET | 850037 |
| SEAL WITH INSERT | 850047 |
| RUBBER VALVE KIT FOR MU-2BVALVE KIT CONSISTING OF 2 ITEMS | 574673 |
| O-RING | 524614 |
| Gasket Pipe Bracket | 558987 |
| | - |
| RUBBER PART KIT FOR F-1 SELECTOR VALE CONSISTING OF 06 ITEMS | 559555 |
| O-RING | 524794 |
| O-RING | 536580 |
| O-RING | 532282 |
| GASKET VALVE | 533417 |
| GASKET BOTTOM COVER | 558535 |
| GASKET PIPE BRACKET | 558534 |
| RUBBER PART KIT FOR A-1 DIFFERENTIAL PILOT VALVE CONSISTING OF 6 ITEMS | - |
| DIAPHRAGM | 564210 |
| O-RING | 526388 |
| O-RING | 524615 |
| GASKET RING | 534031 |
| CHECK VALVE (SMALL) | 538445 |
| CHECK VALVE (LARGE) | 535022 |
| RUBBER PART KIT FOR HS-4 CONTROL VALVE CONSISTING OF 03 ITEMS | - |
| DIAPHRAGM | 526346 |
| O-RING | 524935 |
| RING GASKET | 99458 |